People Are Going Gaga Over Lady Gaga's Historic Golden Globe Nominations, People Are Going Gaga Already
NATALIE MORIN , REFINERY29|AIWA! NO!|Given the frenzied excitement that erupted due to the release of A Star Is Born and the impassioned performance of its lead actress, Lady Gaga, it only makes sense that her Golden Globe nominations (Best Actress in a Film Drama and Best Original Song) caused an enormous outpour of congratulations online.
Besides the fact that Gaga is already a majorly successful and popular musician, as well outspoken defender of social justice, this award show news is significant because it's (potentially) historic. While Gaga isn't a first-time Golden Globe nominee, if she were to win for Best Actress, she will have been nominated in three distinct categories (movies, TV and song) and the first musician to win for acting in a dramatic film.
In 2012, the "Shallow" singer was nominated for "Hello, Hello," a collaboration with Elton Johnmade for the film, Gnomeo and Juliet. In 2016, she snagged her first Golden Globe win in 2016 for her role in TV series American Horror Story. Several musicians have been lauded with acting nominations in the past, including Diana Ross (1972's "Lady Sings the Blues") and Cher (1985's 'Mask") and a few have won in the Best Film Comedy/Musical Actress category, but it's relatively harder for an artist to break out of the "musical" category and be taken "seriously" as a dramatic actor. This nomination is truly an acknowledgement of Gaga's significant range as a performer.Many took to social media to express their support for the artist, with excitement ranging from "pretty gaga" to "full-on gaga":
I don't know if I'm just extra emotional today or what, but Lady Gaga's Golden Globe nomination made me cry. I'm so fucking proud of her.84:56 PM – Dec 6, 2018 · Texas, USATwitter Ads info and privacySee 's other TweetsTwitter Ads info and privacy@TEXASVEGETARIAN
Sorry guys, I'll try not to spam y'all with a bunch of @ladygaga + #AStarIsBorn Golden Globe nominations. But.. great talent needs to always get recognized. 103:12 PM – Dec 6, 2018Twitter Ads info and privacySee Alan Contreras 's other TweetsTwitter Ads info and privacy@ALANCONTRERASView image on Twitter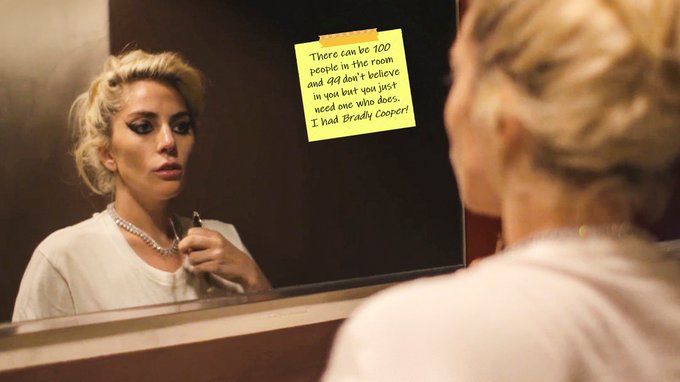 Lady Gaga practicing her Golden Globe speech in the mirror after she found out she's a double nominee #GoldenGlobes1253:41 PM – Dec 6, 201834 people are talking about thisTwitter Ads info and privacy@SATIRICATIVE
If Lady Gaga doesn't win the Golden Globe for Best Actress, we riot.175:39 PM – Dec 6, 2018Twitter Ads info and privacySee Hannah May's other TweetsTwitter Ads info and privacy@HMASON9
If Bradley Cooper and @ladygaga don't receive a golden globe for their outstanding,ground breaking performance, I will swim in a sea of sharks. #GoldenGlobes35:48 PM – Dec 6, 2018Twitter Ads info and privacySee maliakalia ♡'s other TweetsTwitter Ads info and privacy@PRANCINGTACOLady Gaga took to her Instagram stories to express her gra