Some flights being diverted as far as Paris, Amsterdam
 
|AIWA! NO!|Flights at London's Gatwick airport remained suspended early on Thursday, five hours after the UK'S second-busiest airport halted them to investigate reports of two drones flying over its airfield, inconveniencing passengers days before the Christmas holiday period.
Gatwick Airport, the second-busiest in Britain, said on Wednesday it had suspended flights while it investigated reports of two drones flying over its airfield.
Flights due to take off remained parked on the runway, while others scheduled to land at Gatwick were diverted to other airports, according to some passengers who took to Twitter to express their annoyance over the situation.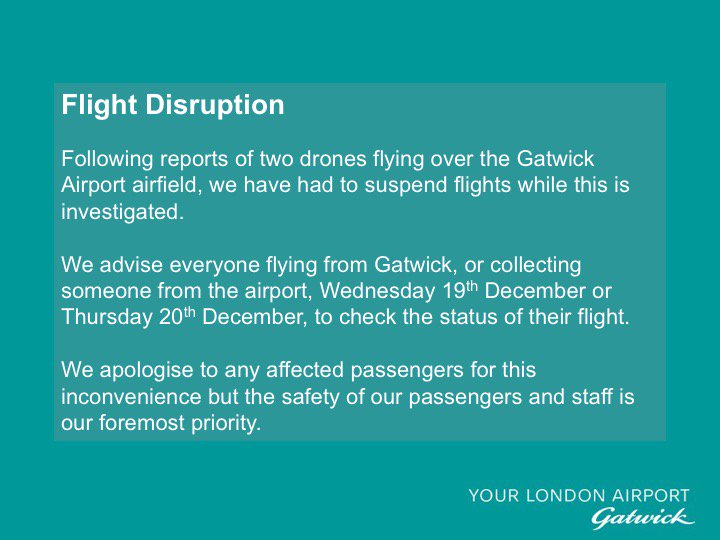 Gatwick apologized on Twitter to affected passengers, adding that safety was its "foremost priority." The airport warned the disruption was expected to continue into Thursday and advised everyone flying or collecting someone from Gatwick to check the status of their flight.
Gatwick said two drones had been spotted over the airfield at 9:03 p.m., local time, and there were "multiple reports of sightings" since.
The airport said it was working with Sussex Police into early Thursday to investigate and wouldn't reopen until it had "suitable reassurance."