"I have decided to step down from my ministerial role at @DFID_UK…;" Lord Bates
AIWA! NO!||Former international development minister Lord Bates – whose surprise resignation was announced came Tuesday – said he had decided to leave government, step down from my ministerial role at @DFID_UK but delighted to be succeeded by Baroness Sugg."
Lord Bates was appointed as a Minister of State at the Department for International Development on 14 October 2016. He was previously a Minister of State at the Home Office from May 2015 until March 2016.
On 31 January 2018, he offered his resignation from the government, after arriving a minute late for a session of the House of Lords which meant he missed a question from Baroness Lister.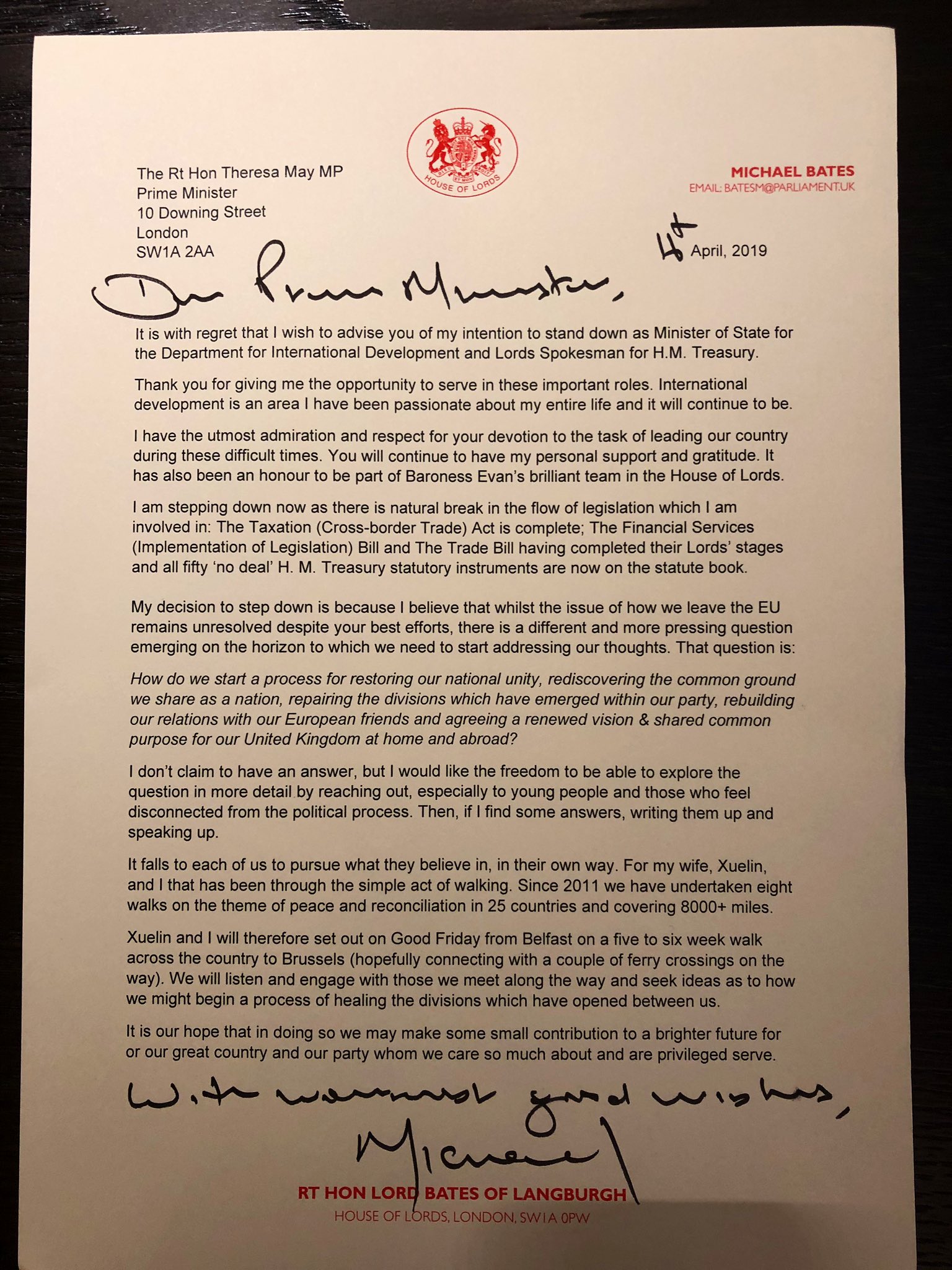 Writing for PoliticsHome, the Tory peer said his decision to quit had been prompted by an opinion poll published last week in which vast swathes of voters described the country as divided – with almost three-quarters saying the divisions splits had grown since the 2016 EU referendum.
"I have been in politics a long time and realise the limitations of building a case on a single opinion poll, but these findings struck a chord with my own experiences," he said.
"There is an aggressiveness, intolerance and incivility which has emerged in our public discourse which is doing our country immense long-term harm.
"Brexit has become for us a kind of toxic courtroom divorce battle in which the hatred of the parents for each other, and their refusal to concede ground to the other, has all but obscured their shared love and responsibility for their children – "
PoliticsHome
"It is time to seek selfless solutions that put the happiness and wellbeing of all the people first."
Urging his fellow politicians to "rediscover the common ground between us", the Conservative peer said his decision to quit the Government and "step out on a walk" would allow him to focus on "rebuilding that unity of purpose at home and close friendships abroad" that had been lacking in the bitter Brexit debate.
"It is probable that our walk will fail either to identify common ground to move forward or to begin a process of national coming together, but we believe it is right to try and find a different path from the one we are currently on, one which will bring us closer together rather than driving us further apart," he said.
Lord Bates and Xuelin are due to arrive in Dublin on Wednesday.
The former minister – who served as a whip in John Major's government – stunned Westminster last year when he briefly quit the frontbench on the floor of the House of Lords after turning up late for a debate.
He also briefly resigned as a minister in March 2016 to take part in a 2000-mile solo walk from Buenos Aires to Rio de Janeiro.