Is Donald Trump redefining USA as a sole superpower or is he executing Putin's agenda: weaken global alliances and agreements; and define a new global political and economic order?
Emmanuel Macron has called on other members of the G7 to stand up to Donald Trump's trade policies in the face of what he described as the threat of a new US "hegemony".
The French president was speaking alongside the Canadian prime minister, Justin Trudeau, who is hosting the G7 summit in Quebec amid sharp disagreements between the US president and the six other leaders of industrialized liberal democracies over trade, climate change and the nuclear deal with Iran.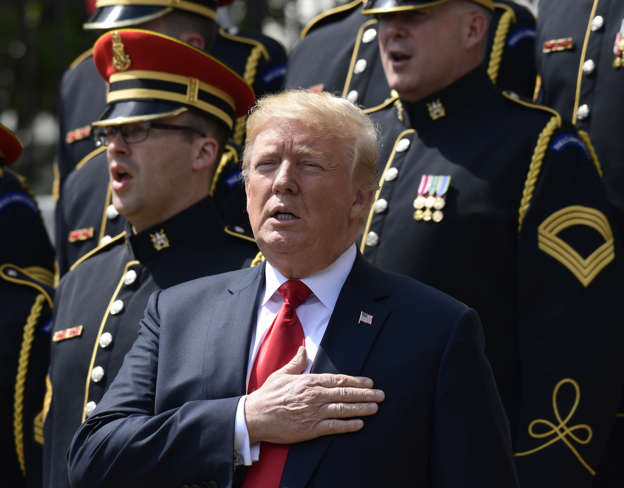 © Associated Press French president warned other G7 members to resist a potential US drift toward 'crude hegemony' following Trump's tariffs on alliesMacron called on other G7 leaders not to water down a joint communique at the end of the summit, at the expense of shared values, simply in a bid to win Trump's signature, warning that a "G6 plus one" outcome was possible.
Both Trudeau and Macron emphasised the importance of dialogue and courtesy at the summit, which begins on Friday. They said was an essential forum for finding common ground and resolving differences.
"The G7 is an opportunity to meet to have frank and open discussions between countries that are longtime allies and friends," Trudeau argued.
© EPA Emmanuel Macron speaks at a joint press conference with Justin Trudeau in Ottawa, Canada, on 7 June.
Both men however voiced anger over Trump's imposition of steel and aluminum tariffs against close allies, supposedly on "national security" grounds. The EU and Canada have imposed reciprocal sanctions on US goods and have taken their complaint to the World Trade Organisation.
Trudeau described the tariffs as "unilateral and illegal" and the national security pretext as "risible". He added that Trump's "unacceptable actions are going to harm his own citizens".
"It is American jobs that are going to be lost because of the actions of this administration," the Canadian prime minister added.
Macron was even more emphatic, calling on the other G7 members to resist what he warned was a potential US drift towards "further isolationism and "crude hegemony".
© Reuters A man walks past the Charlevoix G7 logo at the main press center ahead of the G7 Summit in Quebec, Canada, June 6, 2018. REUTERS/Yves Herman TPX IMAGES OF THE DAYMacron has previously accused China of pursuing hegemony in Asia.
"The six other countries of the G7 represent a market which is bigger than the American market," the French president said. "I believe in cooperation and multilateralism because I will resist hegemony with all my strength. Hegemony is might makes right. Hegemony is the end of the rule of law."
Macron said he would do everything in his power to help Trudeau's presidency of the G7 to succeed and produce a joint statement on Saturday that can be signed by all seven members.
However, he argued that other countries should be ready to have a "G6 plus one" outcome, sticking to a text that enshrines their common values, even if Trump does not sign it.
"The desire for all seven to sign a text can't be stronger than our requirements for the contents of that text," Macron said at a joint press conference with Trudeau in Ottawa on the eve of the summit. "I think we would be making an error if we said we are ready to give up everything, not to talk about the Paris Accord or climate, or trade, just to have that signature."
At last year's G7 summit in Sicily, the leaders all signed a communique, but the statement made clear there was deep differences on the Paris climate change accord.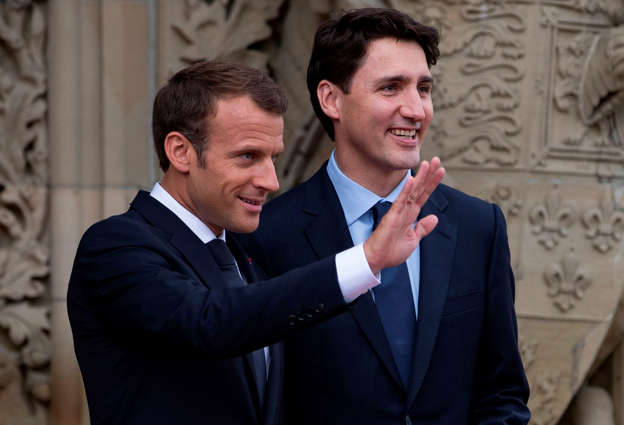 © Getty Canadian Prime Minister Justin Trudeau (R) greets French President Emmanuel Macron (L) as he arrives at Parliament Hill in Ottawa, Canada, 06 June 2018. Macron is on a two-day visit to Ottawa and Montreal before attending the G7 summit"Maybe the American president doesn't mind being isolated today," he said, but added that US workers would be the first to suffer from a trade war between Europe and the US.
"We are all engaged in conflicts in Syria, in Iraq, in the Sahel, in different places in the world. We are allies. Our soldiers stand shoulder to shoulder to defend liberty and our values," Macron said. " You can't, among allies in this international context, start a trade war. For me its a question of principle."
Macron expressed support for Trump in his expected summit with the North Korean leader, Kim Jong-un, but also warned that the US president's abrogation last month of a 2015 multilateral deal on the Iranian nuclear programme, cast doubt on the credibility of such agreements.
The Trump administration has threatened to impose sanctions against European companies that continue to do business with Tehran, an effort the US has said it will resist.
Macron said the message of other G7 leaders to Trump on the Iran deal should be: "You're not comfortable with an agreement signed by your predecessor, maybe just because it was signed by your predecessor, but don't stop others from respecting it and don't push Iran to leave, because today it's the best protection we have."