Aboard a migrant rescue ship OFF the North African coast of Libya: scared, scarred and anxious to the bone – dingy wary 'tourists' ding through raging seas for 'Graceland' Europe
al-Maghrib al-Kabīr), or by some sources, the Berber world, Barbary and Berbery, is a major region of North Africa that consists primarily of the countries Algeria, Morocco, Tunisia, Libya and Mauritania.
This once famous middle east trade magnate in the recent years has mutated into 'Africa to Europe by boat'.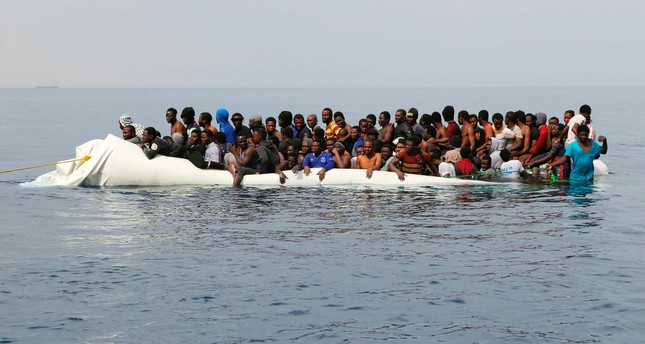 The images are disturbing—hundreds of desperate young African men crowded shoulder to shoulder on rickety boats in the Mediterranean Sea, sailing toward an unknown future in Europe.
The story of this exodus, starting with long journeys through the punishing desert to North Africa, where they board the boats, is heart-rending. The fatalities are high. Yet daily more depart their home countries on similar journeys.
For African migrants, 'extreme vetting' from U.S. to Europe slams the door shut. The Trump administration's immigration crackdown was only the beginning for Africans struggling to flee war and famine. New restrictions within Africa and opaque deals between European countries and African regimes could have a much more dramatic effect soon, Geoffrey York explains.
Tesfay Tesfaye Mebrastu, 16 left Eritrean capital Asmara in 2016 for Italy. "I saw a lot of my friends who had been to Europe come back to Eritrea with money and build houses for themselves," he said, adding that many of his friends left without any documents.
"I thought I could be one of them," Tesfay wrote for "I Am a Migrant", a campaign sponsored by the International Organization for Migration (IOM) that gives migrants a platform to tell their migration stories
A 253-feet long, 2,000-ton boat makes for an ungainly indoor political football ground – complete with supporting home crowd, especially when it is carrying some 629 desperate migrants and is staffed by a crew of angry humanitarian workers.
But since January 2015, when the MV Aquarius, a search-and-rescue vessel operated by Médecins Sans Frontières(MSF) and European NGO SOS Méditerranée, came to the aid of several dinghy-loads of imperilled migrants who had set off from the Libyan coast for Europe, the boat has become a symbol of the continent's most intractable crisis.
"Italy is done bending over backwards and obeying, this time THERE IS SOMEONE WHO SAYS NO;" Italian deputy Prime Minister and Interior Minister Matteo Salvini
That wouldn't be the plight of the migrants, which is indeed dire, but rather the inability of the European Union to tackle an issue that threatens to tear the bloc apart: what to do about the migrants and refugees who are willing to risk everything, even their lives, to reach European shores.
Even though the mayor of Sicily's major port city of Palermo, Leoluca Orlando, said he would accept the Aquarius and her passengers, Salvini overrode the offer, launching a Mediterranean standoff.
"Malta takes in nobody. France pushes people back at the border, Spain defends its frontier with weapons," Salvini wrote on Facebook. "From today, Italy will also start to say no to human trafficking, no to the business of illegal immigration."
As UNHCR's Special Envoy for the Central Mediterranean, Vincent Cochetel, pleaded for sanity, calling for the issue of responsibility to be resolved after the migrants were safely offloaded, Spain finally stepped forward, offering its port of Valencia to the Aquarius. Salvini immediately tweeted "VICTORY." But for the passengers, who have already spent the past three nights in discomfort upon the Aquarius' steel decks, it is anything but. Valencia is at least another three days journey away, according to MSF, and bad weather is complicating matters with high winds and waves.
The boat also doesn't have enough supplies to cater for the long journey. And so now the Italian Coast Guard is stepping back in, to resupply the Aquarius, take some of the load, and escort it out of Italian waters and over to Spain.
At least 1,500 migrants have died in the Mediterranean in 2018, one in 19 have lost their lives while trying to cross the Mediterranean from Libya to Italy, according to the U.N. migration agency