Embattled May insists she will 'see this through' after Brexit resignations.The Prime Minister insisted her Brexit deal was the right plan for the country.
|AIWA! NO!|Theresa May struck a defiant tone after being hit by a wave of ministerial resignations and calls for her to be ousted as Prime Minister in a backlash over her Brexit plan.
The Prime Minister defended the blueprint thrashed out with negotiators in Brussels as she faced major challenges to her authority at home.
Dominic Raab resigned as Brexit secretary, Esther McVey quit as Work and Pensions secretary and leading Brexiteer Jacob Rees-Mogg submitted a letter of no confidence in Mrs May in a bruising day for her premiership.
But at a press conference in Number 10, Mrs May said: "I believe with every fibre of my being that the course I have set out is the right one for our country and all our people."
She added: "Leadership is about taking the right decisions, not the easy ones.
"As PM my job is to bring back a deal that delivers on the vote of the British people, that does that by ending free movement, all the things I raised in my statement… ensuring we are not sending vast annual sums to the EU any longer, ending the jurisdiction of the European Court of Justice, but also protects jobs and protects people's livelihoods, protects our security, protects the union of the United Kingdom.
"I believe this is a deal which does deliver that, which is in the national interest, and am I going to see this through? Yes."
Mr Raab and Ms McVey walked out of the Government the morning after Cabinet agreed a draft EU withdrawal agreement in a stormy five-hour meeting.
And International Development Secretary Penny Mordaunt, a Cabinet Brexiteer, is due to see the Prime Minister this evening, sources said.
Two more junior ministers – Suella Braverman at the Brexit department and Shailesh Vara at Northern Ireland also quit.
There were rumours at Westminster that Brexiteer Michael Gove had been lined up to replace Mr Raab – but he would only agree to the job if he could renegotiate the deal.
Asked about the speculation, Mrs May said Mr Gove was "doing an excellent job" as Environment Secretary.
In a letter to Sir Graham Brady, chairman of the backbench 1922 Committee, Mr Rees-Mogg said Mrs May's deal "has turned out to be worse than anticipated and fails to meet the promises given to the nation by the Prime Minister, either on her own account or on behalf of us all in the Conservative Party manifesto".
His move is expected to be matched by other members of the ERG, hugely increasing the chances of Mrs May facing a vote of no confidence in her leadership. It is not known how many letters Sir Graham has received so far.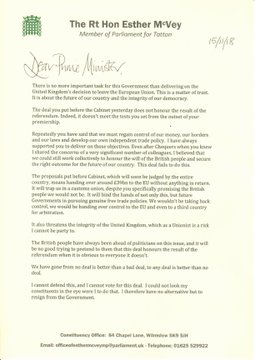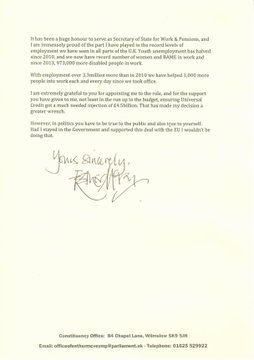 Earlier this morning I informed the Prime Minister I was resigning from her Cabinet
The developments threaten to derail the Prime Minister's Brexit strategy ahead of a crucial EU summit, which European Council president Donald Tusk confirmed would take place on November 25, "if nothing extraordinary happens".
Speaking to reporters outside Parliament, Mr Rees-Mogg said he believed the letters needed to trigger a vote of no confidence would be submitted, but declined to say how soon. If Mrs May was ousted as leader, a contest to choose a successor could be completed "not in months, but weeks", he said.
He refused to name his preferred successor, but he identified Mr Raab, Ms McVey, Boris Johnson, David Davis and Penny Mordaunt as potential candidates.
"This is nothing to do with the ambition of Brexiteers," he said. "It is everything to do with the ambition of Brexit for this country."
Dismissing Mrs May's plan, he said: "This is not Brexit. It is a failure of Government policy. It needs to be rejected."