CRIMSON TAZVINZWA// Republicans vow to move on with confirmation of Kavanaugh as Federal Judge if the accuser (Professor Ford) won't testify by Monday; President backs the nominee saying "very hard" for him to "imagine anything happened with Kavanaugh."
"I can only say this, he is such an outstanding man, very hard for me to imagine that anything happened," Trump says.
In the meantime Professor Ford's lawyer questions the urgency of the Dr. Ford and Kavanaugh's hearing Monday; and why President Trump would not order the FBI to carry out an investigation of the said 'attempted rape.'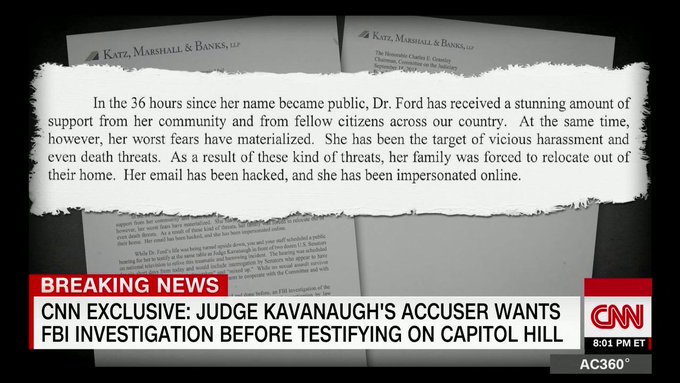 Christine Blasey Ford's attorney Lisa Banks, told CNN's Anderson Cooper Tuesday that Ford will not testify in front of the Senate Judiciary Committee unless the FBI investigates the sexual assault allegations against Brett Kavanaugh.
Ford, a professor in California, has accused Judge Kavanaugh of attempting to rape her at a gathering decades ago while the two were both attending high school in Maryland.
Kavanaugh denies the allegations.
What they are saying?
Several female lawmakers spoke out on Thursday about what they see as the rushed confirmation process for Supreme Court Justice nominee Brett Kavanaugh in the wake of a sexual assault allegation.
Joined by supporters of Christine Blasey Ford, who has said the nominee assaulted her during a party decades ago when they were both in high school in suburban Maryland, Sen. Kirsten Gillibrand, D-N.Y. slammed Republicans for "bullying" the college professor.
"She's not asking for extraordinary measures, she's asking for basic fairness," she said.
Joined by supporters of Christine Blasey Ford, Sen. Kirsten Gillibrand slams Republicans for "bullying" Brett Kavanaugh's accuser: "She's not asking for extraordinary measures, she's asking for basic fairness" https://abcn.ws/2pqNZXm 
The lawmakers touted a letter of support they said was signed by more than 1,000 Holton-Arms School alumnae, a nearby all-girls private institution in Bethesda, Maryland.
"We believe Dr. Blasey Ford and so grateful to her for coming forward and sharing her story," said Sarah Burgess, from the class of 2005, who stood flanked by fellow alumnae and lawmakers.
"As we say in the letter, her experience is consistent with experiences that we have heard and lived and many of us are survivors ourselves," she said. "We are sharing this letter so it can be officially added to the record and they can consider it as they make this very important decision. Dr. Blasey Ford has shown she beyond credible. Sexual assault needs to be taken seriously and there is no way that you can vote on this before we have a thorough and independent investigation. Once again, most of all, we are so grateful to Dr. Blasey Ford and we hope she knows that we stand with her. We are so thankful that she is helping us move towards a world where women can be free of sexual assault and violence. Thank you."
Sen. Kamala Harris (D-Calif.): "I support Dr. Blasey Ford's request for an FBI background investigation before a hearing. She should not be bullied into participating in a biased process and we should not rush forward before facts are gathered."
Sen. Dianne Feinstein (D-Calif.) tweeted in a thread: "I agree with her 100 percent that the rushed process to hold a hearing on Monday has been unfair and is reminiscent of the treatment of Anita Hill. I also agree that we need the facts before senators—not staff or lawyers—speak to witnesses."
Sen. Orrin Hatch on Monday told reporters on Capitol Hill that Christine Ford may be "mixed up" about whether Brett Kavanaugh, the Supreme Court nominee, was at a high-school party in which he allegedly sexually assaulted her. "There's some question whether she's mixed up" about Kavanaugh being there, he told reporters. The Utah Republican, who is on the Senate Judiciary Committee, said he spoke with Kavanaugh on Monday.
Safety worries for Professor Ford
And while Ford has moved home because of threats to her life and family; Judge Kavanaugh has been holdup in The  White House; actually he has made it his operational base; churning out emails, tweets and phone calls to base and associates;  presumably already enjoying the remunerations and freebies that go with the pending role. Grassley is offering him guidance and strategy. We are told.
I find it so disturbing and conflicted that #Kavanaugh is doing his prep for this hearing in the WH. It's one thing that a president must appoint a nominee, but this Trump/Kavanaugh team approach is troubling since a Trump issue is very likely to come before the court.
And what about Ford? What about her? She is left to hang-and-dry. She has to fend for herself except for a handful of well-wishers who are organizing support. Why is the burden on Professor Ford to testify by Monday? What is the rush? Why is it not Kavanaugh's burden to prove he is innocent; and to be open for a professional investigation by the FBI. AS the 'I' in FBI suggests 'INVESTIGATION'.