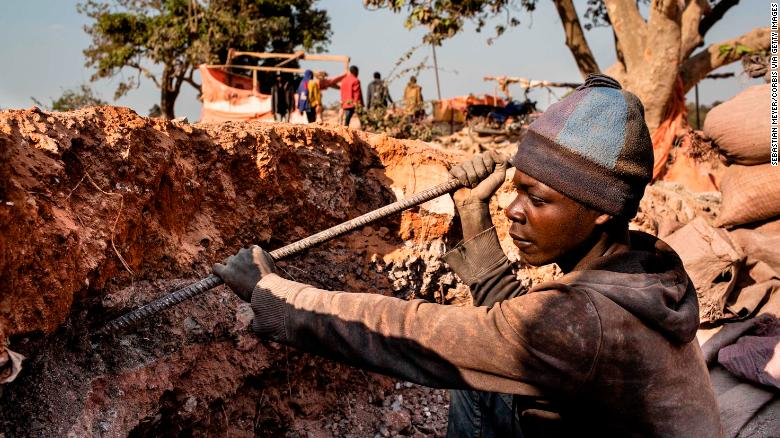 London (CNN Business)The world's biggest metal exchange is changing its rules to combat child labour, money laundering, bribery and corruption. The London Metal Exchange will require producers that operate in high-risk and conflict zones to demonstrate that their products are responsibly sourced by 2022.
It's a major policy shift for the 142-year-old exchange, which until now certified metals for trade only by evaluating qualities such as their shape, weight and chemical composition. Now it's trying to ensure that the metal that ends up in cars or electronic devices is ethically sourced.
"Global consumers rightly demand action on responsible sourcing — and our industry must listen," CEO Matthew Chamberlain said in a statement. He said the exchange is adopting the standards because "it's the right thing to do" and because "the value of our market is based on providing metal which is acceptable to those consumers.
"The London Metal Exchange has come under increasing pressure after a 2017 Amnesty International report found child labour and human rights abuses at cobalt mines in the Democratic Republic of Congo.
The country is responsible for roughly half of the world's production of cobalt — some of which is traded on the London exchange and later used to produce batteries for smartphones and electric cars.
Media and watchdog reports have detailed widespread bribery and corruption connected to mining around the world, as well as evidence that revenue generated has been used to finance conflict. Many companies are trying to ensure their supply chains are free from conflict minerals and child labour. Volkswagen (VLKAF), for example, has just launched a pilot program that uses blockchain technology to trace raw material back to the point of origin.
Glencore will cap coal production, but some climate groups say that isn't good enough
Change comes to the London Metal Exchange
The London Metal Exchange pledged last year to change its policy in response to allegations that it allowed untraceable metals to be traded. It published a position paper in December outlining its next steps, but more than a dozen NGOs including Amnesty International and Global Witness responded by pushing for even stricter standards and more transparency. The exchange, which handled $15.7 trillion in metals trade in 2018, said Tuesday that it had considered the feedback when drafting its new rules.
Companies that produce metals traded on the exchange will be required to run their own "red flag" assessments based on guidelines from the Organisation for Economic Co-operation and Development by the end of 2020. The exchange will then review the assessments. Producers with red flags will be audited by the exchange by the end of 2022. Starting in 2024, the exchange will require the producers to publish their assessments. The exchange said Tuesday that it wants to work with the companies on a voluntary basis, but added that its "core power" is to suspend or remove the companies that refuse to cooperate.
Apple is making it easier to recycle your old iPhone
Global Witness said Tuesday the new requirements are a step in the right direction. Sophia Pickles, a supply chain investigator at Global Witness, said that the decision to require brands to publicly report on financial crime and corruption risks was particularly important. However, she said the exchange should take additional steps."The [London Metal Exchange] must also go further when it comes to tackling the impacts of its brands on the planet … [and] require companies to report on environmental and climate risk, too," she added.