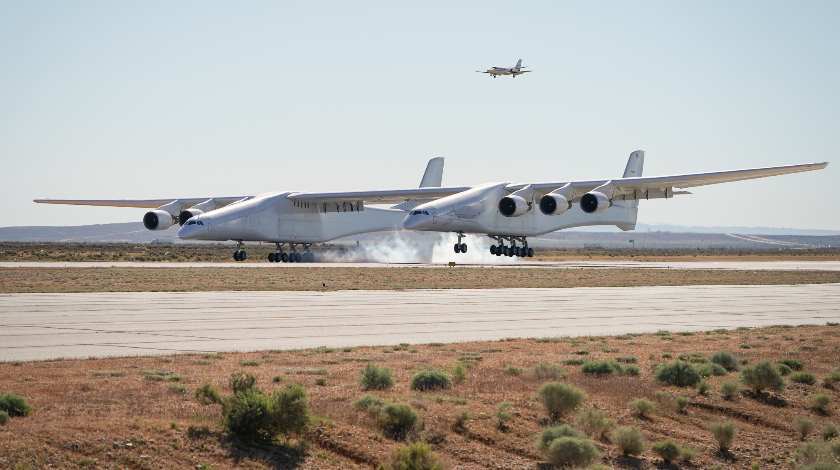 Massive Stratolaunch Aircraft Makes First Flight – Crimson Tazvinzwa
AIWA! NO!||A notable aviation record has been broken with the maiden flight of what is now the world's largest aircraft – the Scaled Composites-built twin-fuselage Stratolaunch, whose 117m (385ft) wingspan outstrips even the 97.5m of the Hughes H-4 Hercules flying boat, better known as the Spruce Goose.
The biggest aircraft in the world took off for its first flight and, most importantly, successfully completed it. It is the Stratolaunch Roc, the carbon-composite plane built by Stratolaunch Systems, founded in 2011 by Paul G. Allen.
The huge six-engine aircraft, called Stratolaunch, took its first-ever flight last week.
The plane with "a dual fuselage design and wingspan greater than the length of an American football field", achieved its historic milestone over the Mojave Desert in California in a flight which lasted for 2.5 hours at altitudes up to 17,000 feet.
The plane — nicknamed Roc — made its unannounced flight from the Mojave Air and Space Port in California. It's the same location where the company has done runway tests for several months. Stratolaunch's plane is designed to launch rockets from the air.
What is Stratolaunch?
The Stratolaunch aircraft is a mobile launch platform the aim of which is to enable airline-style access to space that is convenient, affordable and routine. The reinforced centre wing can support multiple launch vehicles, weighing up to a total of 500,000 pounds.